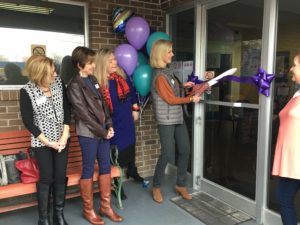 When Angela White arrived at Alpha Home Inc. as the new CEO in early 2016, she considered receiving a High Impact grant from Impact San Antonio a "pipe dream." Alpha Home had applied year after year with no success. And then the last $100,000 grant recipient announced on Grant Award Night in October 2016 was Alpha Home!
"We were leaping up and down like gibbons," Angela recalls. "It was very non-classy, but it was a night I will never forget. Impact SA is funding something that is hard. Serving women in addiction is not always a lovely feeling. The grant award acknowledges that what we do is important." And the collective wisdom of the voting members that night, understood this.
Alpha Home primarily provides residential and outpatient substance abuse treatment and is the only rehab facility in the San Antonio area offering a residential treatment program exclusively for women. Through the collective giving power of Impact SA members, the High Impact grant allowed Alpha Home to renovate one of their two residential treatment facilities, Camden House, which accommodates 16 women for 70 days at a time on average, or 120 women per year.
The Camden House renovation spanned 12 months and went very smoothly. Both Angela and Nangie Lowrie, Alpha Home's COO, praised the contributions of Impact SA member volunteer liaisons to the project's successful execution.
Nangie said, "One of the things I like best about the Camden House renovation is the deck. We were able to rebuild it, extend it and add a cover. The large deck adds to the peaceful aesthetic, and the additional space provides more privacy for clients and their visitors."
The grant dollars have had an impact far beyond the construction project. Angela noted, "The grant is not just about the money. It is connecting women. For our clients, there is huge power in the knowledge that the Impact SA women want to help them. The grant also puts us at center stage and gives us a voice to reach those who may not have heard us before. It opens doors."
And to you, our philanthropic members of Impact SA, never doubt that your contributions make a huge difference in the community.  Alpha Home is but one example.  We thank you for being part of Impact San Antonio, as we, arm-in-arm, change lives for the better.  For more information about the legacy we are leaving, go to Our Legacy.